I confess – I am obsessed with jewelry. My mantra is jewelry and accessories can transform any outfit in your closet.
Not just the fancy stuff (but it is lovely, is it not?).
But even the non-fancy stuff can add up when you shop with wild abandon. Which I never, ever do….except when I sniff out "alikes" at hard to resist price points.
What are "alikes"? Sweet necklaces that are not 14k gold for example or glossy bangles that are cute but will not hold my interest on a regular basis or jewelry that is mass produced but priced high because of its brand name are not items I am willing to invest in. Often you can find similar pieces that look alike for a lot less. Do remember that you get what you pay for so if there is something you think will become a permanent part of your jewelry collection and possibly handed down, then by all means purchase the higher quality item.
You can then save up for those items that define jewelry — individual pieces, unique, works of true art that speak to you. That is what you should invest in.
LUXE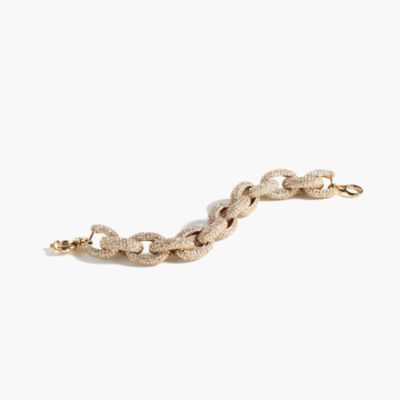 Classic Pave Link Bracelet – J Crew $125
Christina Link Bracelet – Stella & Dot $49
LUXE
On the Mark Necklace – Stella & Dot $49
Now I like Stella & Dot but I am not paying that much for a layering necklace.
OR LESS 
Arrow Charm Necklace – Forever 21 $3.89
LUXE
Alexis Bittar Bel Air Gunmetal Twisted Hoop Earrings – Charm & Chain $195
OR LESS
Rhinestone Oval Hoop Earrings – Express $19.90