I almost missed the Kate Spade surprise 75% off sale. Almost.
But a girl knows she's loved when her pal with a great appreciation for these things sends her a reminder.  Yo Yoder, you rock!
Here are my picks!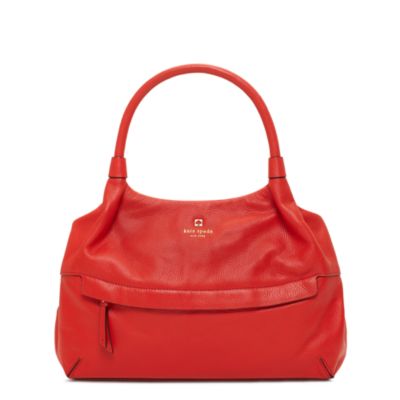 Love this punch of color and casual shape! I had just been eyeing this bag earlier in the day so the color was on my mind as a must get.
Grant Park Stevie in Geranium – Kate Spade Surprise Sale $169 (was $428)
xoxo
Attainable Chanel until my ship comes in! I have been looking for a bag that had polish but no sharp edges – literally. I need a break from super structured bags.
Gold Coast Medium Serena in Black – Kate Spade Surprise Sale $169 (was $375)
xoxo
These are subtly retro and perfect for adding a pop of color to a suit or sheath at work. They will also add some style irony to a tee shirt and jeans moment.
Posey Park Studs – Kate Spade Surprise Sale $29 (was $58)
xoxo
Your spring and summer shoe wardrobe is complete. Perfect color. Perfect design. Perfect heel height.
Billie in Grey Snake – Kate Spade Surprise Sale $149 (was $345) 
xoxo