Over the years I have learned a thing or two about preparing for and dealing with all that winter throws at you.
I may live in DC but I've got serious winter street cred!!
I spent four years in college in Western Massachusetts and spent two weeks in December in Alaska every other year for the past 14 years.
Not to mention Snowmageddon 2010 with a 2 year-old. Good times.
So I know a few things. But do not expect this to be a list of heavier facial moisturizers, heavier body lotion, deeper fragrance scents and deep conditioning hair masks to battle the dastardly drying out of indoor heating systems. Y'all already know that you need those things.
My winter Rx is for your winter needs you don't realize you need until you are in the moment —-
Pre-stock tissues in every coat pocket – You will want fresh tissues in every coat you wear in the winter. Trust me. Because how many times have you realized that no amount of polite sniffing is holding back the drip and reached frantically into your coat pocket and…nothing. Yep.
Sniff Leopard Skin Tissues – Ricky's NYC $1.99
Stock up on earring backs – You slip in your chic, dangling earrings for brunch with your friends. Put your coat on, wrap your scarf just right and head out. Somewhere during the day the fish hook of your earring will rub against your scarf, working its way slowly out of your ear. Oh yes. So, so, so many of my favorite pairs of earrings have lost their mate that way.
Clear Fish Hook Earring Backs – Claire's $6.50
Extra Gloves – Like socks, gloves have a frustrating habit of losing their mate. If you are able to keep a pair of gloves together all winter, I worship you. But for the rest of us those childhood glove clips sound awfully appealing! So, in the absence of looking like a 4 year old, I suggest putting a pair of gloves in your car, at your office, in your pilates / gym bag, and in your purse.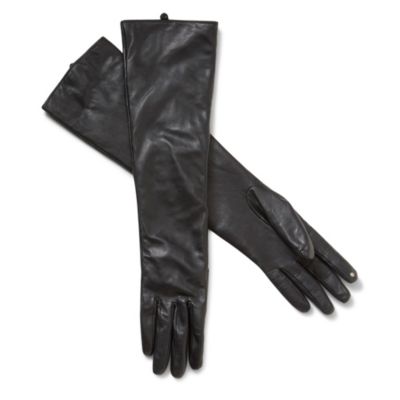 Long Leather Gloves – C Wonder $98
Echo Quilted Gloves – Nordstrom $38
Tinted lip balm – Winter presents a lipstick dilemma. Applying lipstick and lip balm throughout the day one after the other. I for one cannot deal with that. Tinted lip balm is my winter savior.
  Tinted Lip Balm – Burt's Bees $7
Fresh Sugar Lip Treatment – Sephora $22.50
Shoe Maintenance – Winter is hell on shoes – wet leaves, snow melting salt/chemicals, etc. What you need is weatherizing spray, charcoal deodorizing inserts, and the simplest thing of all – a cloth to wipe off the heels of your shoes.
Executive Imperials Weather Guard Spray – Amazon $6.95
Mini Moso Charcoal Deodorizers – The Container Store $9.99
Light up the night – After that one glorious day of extra sleep after fall daylight savings the reality hits. Daylight is limited. A mini flashlight on your keychain is a godsend when trying to unlock your front door when you forget to leave your front door light on in the morning.
   Energizer High Tech LED Keychain Light – Amazon $7.39
Sunscreen – Like the post office, whatever the season the sun, limited as it may be, still shines.
Supergoop! City Sunscreen Serum with Uniprotect – Sephora $42