Better. Late. Than. Never.
That is a phrase I feel like I have ingrained in my brain these days.
Remember how we were all "thank goodness 2014 is over!!"? Well, somehow 2015, in three short months, has made me miss those good ole '14 days.
Sigh.
But I am back…better late than never!
Right?!?!
You know that phrase also holds a solid place in the fitness part of our lives. It is never too late to take that first step toward getting back in to an active, healthy physical state.
Well, I don't know about you but while I know this whole exercise thing is good for you, I need to have swag to really get engaged….remember, I am the planet's biggest sucker for free gift with purchase.
Dangle some cool accessories in front of me and I'll happily tackle that kettle bell workout!
Did I mention, you also need to make working out ridiculously easy to accomplish within my daily routine.
Swag #1 – Cut yourself some slack and let someone else plan, shop for and prep your dinners. Enter Blue Apron. My buddy, the divine Katie, started Instagramming her Blue Apron dinners so I had to ask – What? How? Where can I get that??!! Because she is the nicest person in the world she sent me a free week – Woot! Oh my the utter bliss of every healthy (we ordered salmon!) meal carefully portioned out and delivered to my door with every ingredient I'll need to make the recipe.
Swag #2 – It is not always an option to get to the gym. Have some quick – but oh so impactful – workouts that you can easily do at home. "Easily" being the operative word – no matter the size of your home or the amount of exercise equipment you have. Enter Blogilates. I'll admit when I first stumbled upon Casey Ho and her extensive library of mini workouts, I was a little skeptical — she is very bubbly. But not too bubbly and I am an obsessed convert to her workouts. Just try her three minute inner thigh workout. Go ahead. Yep.
Casey Ho – Blogilates Founder
Swag #3 – Cool clothes. Remember how we are told to dress for the job you want? Why can't that apply to our workout clothes? I say, dress for the body you want! Be your own inspiration!
SOLOW Diamond Mesh Leggings – ShopBop $93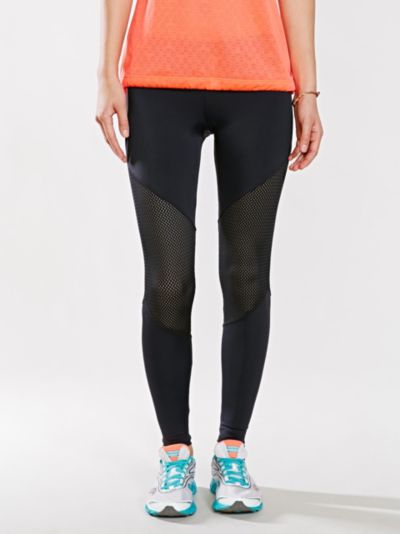 Onzie Mesh Track Legging – Urban Outfitters $44.99
Mind Over Matter Pixel Tank – Athleta $69
 Power Up Tank – Under Armour $39.99
Swag #4 – That one song that will get you in the mood to exercise. We all have that one song we can't help but dance to, belt out in the car, and just gives us an immediate mood boost. I actually have a few in rotation. However, I just discovered a new song Shut Up and Dance by Walk the Moon. This song just took my 80's / 90's childhood and made it swoon.